How to use money to make money in Nigeria. Yes, in this guide, I will show you how to invest the little money you have in an online business to make more money.
This is one of the surest ways to make money online.
It's a simple investment strategy that I have tried and it worked for me. So I have decided to share the strategy with you so you that can also benefit. I earlier shared this idea in one of my lessons on How to Get a Successful Blog even If you Don't Know how to Write.
The Strategy – How it Works
Just like any other business, you can invest some amount of money into a proven online business within a stipulated period of time and reap the benefits later. I personally invested about N1.5Million to build an information based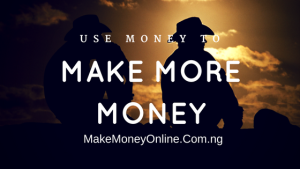 website here infoguidenigeria.com.
There, I pay freelance writers to produce contents for me. After one years, the site can comfortably make up to N100,000 per month on its own. That's what I am talking about in this post.
Let's see how you can start your own online investment now.
How to Use Money to Make Money Online in Nigeria
Follow the guide below to find out how you can use money to make more money online.
1. Create a blog in an interesting topic. See the: Top 30 List of Blog Niche with the Highest Readers in Nigeria.
At a start, you will need less than N30,000 to create a professional WordPress blog. The amount will be okay for you to Bluehost.
You can use free theme for it if you do not have money to buy premium wordpress themes. If you cannot do it, you can hire me to do it for you.
2. Use some Money to Pay for Content Production: There are many kinds of contents. The most popular ones are articles and videos. This is very good if you want to start a review blog.
Articles: Hire article writers – with a very good bargain, you can find very good writers that produce any kind of article you want. Publish them as many as possible on the blog. In my case, my target is 5,000 articles and that's why my budget climbed higher.
Videos: If you want to make money from youtube or Facebook, you can invest in learning video production or you can also hire someone to do it for you.
You can create huge followership if you can get rich contents for your blog. Read: How to Build a Buyable Audience and Maintain it.
Use Money to drive traffic
If you still have a smiling budget, you can invest more in paid content marketing strategies (advertising). This will promote your brand quickly while you begin to see your return of investment while waiting for Google to rank your blog.
Few advertising options for new blogs are;
Facebook Ads
Twitter Ads
Google Adword
Bing Ads
Sponsored posts
Monetize your blog traffic
One you have traffic to your blog either through paid advertisement or for free, you can then monetize your blog. There are many ways to make money from your blog. Few popular ones are listed below;
more…
Why is this Strategy Good
In this strategy, you can not only using money to get more money online, but you can build a future business for yourself and for your children. If you focus more on publishing evergreen contents, those articles will still make money for you in the next 100 years.
For me, this is a nice online business idea. What do you think?
Get Free ₦1,000 plus 5% - 15% interests on savings and over 25% return on investments: Create a Free Account on PiggyVest