In this guide, I will show you how to make money from Shopify Affiliate Program. See how to earn whooping $2,000 commission for each new Shopify merchant you refer.
What I am doing on this blog is to guide you through various legitimate ways to make additional income from the internet. I have personally tried Shopify affiliate program and it works like magic. You will definitely love this too.
What is Shopify ?
Shopify is an online eCommerce software for online stores and retail point-of-sale systems. They have all the tools anyone need to start an online store. Shopify is the best eCommerce platform that has everything you need to sell online, on social media, or in person. You can even try it out for 14 days without paying a dime.
Merchants use Shopify as their commerce solution because we provide merchants everything they need to sell anywhere. Shopify merchants can sell online, in-store (POS) and even on Facebook, Amazon or Pinterest. With plans starting at just $29 per month.
What is Shopify Affiliate Program
Shopify affiliate program is a promotional strategy that allows other people earn money when they refer new merchant to join them. Do you have a blog or a good email list?
Do you have followers, friends or relatives who are interested in starting their own online store? If yes, refer them to create their online store with Shopify and they will pay you $2,000 referral commission.
How to Join Shopify Affiliate Program
To join Shopify affiliate, kindly follow the procedure below: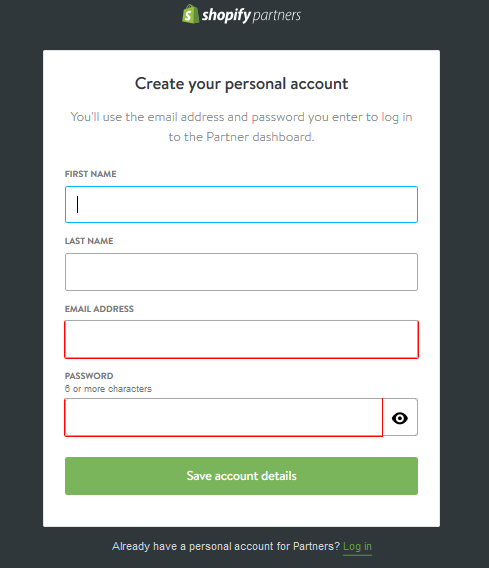 1. Visit Shopify affiliate page here
2. Click the "APPLY" button
3. Full in the form with your first name, last name, email address and password.
4. Click on "Save account details
5. Add details about your business
6. Review shopify Privacy Policy and Partner Program Agreement
7. Click on "See partner Dashboard"button.
8. Login into your email account to confirm your email address
You are not done yet…
Shopify Interview for Partners and Approval 
After all these, before you get your unique promotional link and other marketing tools, you will be asked to submit a brief article on how you intend promote Shopify.
They will also ask you about your affiliate marketing experience in the past. This is not difficult at all. Once you do this, approval to shopify affiliate program is about 24 hours.
Once your account is approved, login to your account, click on "Referrals"link on the left vertical menu, you will be able to see your unique referral link as shown in the picture below.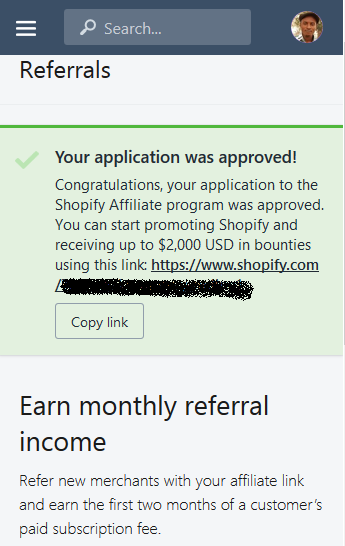 How to Promote Shopify affiliate program and earn $2,000 commission
Step 1: Sign in to your Affiliate Dashboard Account
This is your primary affiliate dashboard which contains your affiliate link and is the only place to view your commissions and payment information.
Step 2: Retrieve your affiliate link
In order to retrieve your link, simply visit the Referrals Tab in your dashboard and click Copy Link.
This link will allow you to give a free 14-day trial to your visitors. When free trial users begin their paid subscription after the 14 days, you earn commissions!
Step 3: Download Banners and Text Links
Text Links (add your affiliate link):
Shopify
Try Shopify for Free
Create your online store in just 60 seconds
Shopify is everything you need to sell anywhere
Sell on Pinterest with Shopify
Banners (right click to save, then add your affiliate link):
There are several banner images for you to use.
Simply download our banner pack and add your affiliate link, found above.
Shopify Affiliate Program Commission Highlights
200% bounty payout for standard plans (Basic, Shopify & Advanced)

100% Commission of the 1st paid month + 100% Commission for 2nd paid month

ie: Your referral pays a $29 subscription fee for month 1 and then again on month 2 you will earn $29 + $29 = totaling $58

Shopify Plus (Enterprise plan) pays a one-time $2,000 commission
It has 30 day cookie
Bonus opportunities and sample content inspiration
Contests and giveaways
International banners and landing pages (and many more!)
My Take!
This is a nice opportunity to make money online. What do you think?
Let me hear from you in the comments section below.
Get Free ₦1,000 plus 5% - 15% interests on savings and over 25% return on investments: Create a Free Account on PiggyVest