You want to start a blog but still confused on what topic to choose?
You started a blog on a topic that has little or no traffic?
You started a blog but it's failing because the topic is not interesting or there are no product or services to promote or sell.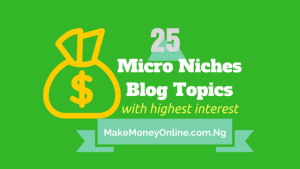 If yes is your answer… don't worry. There's a way out.
You want to make money online blogging? If yes, go deeper inside micro niches now.
In this post, I have given you the Top 25 Blog Topics Niches with Highest Interest in Nigeria for your inspiration. I took time to make research on popular eCommerce platforms in Nigeria to come up with list.
Read Also: How to Find a Profitable Blogging Niche
List of Top 25 Micro Niches Blog Topics with Highest Interest in Nigeria
These are micro niches topics because they have specific target audiences.
Enjoy!
Sport,
Books & Games,
Musical Instruments,
CDs & DVDs,
Babies & Kids,
Children's Clothing,
Children's Shoes,
Children's Furniture,
Seeking Work / Job opportunities,
Animals & Pets,
Dogs & Puppies,
Cats & Kittens,
Birds,
Blackberry Phones,
Samsung Phones,
Apple Iphone,
Tecno Phones,
Toyota,
Honda,
Jewellery,
Watches,
Houses & Flats for rent,
Houses & Flats for sale,
Hair Beauty,
Bath & Body
Related: Top 30 List of Blog Niche with the Highest Readers in Nigeria
What are Micro Niches Blog Topics
Micro Niches Blog Topics are those niche topics that focus on a particular product or services.
Each of these Blog Topics Niches have recorded significant high search volumes in Nigeria.
They also have high profitability rates because they have either physical or digital products you can promote or sell to maximise your income online.
Because if the availability of products, you can make money if you start a product review blog using any of the listed topics above.
A typical example of the niche specific blog in Nigeria is browsingphones.com. The owner of this blog is making it big from Jumia and Konga affiliates as well as from Google AdSense.
See Also: Best Blogging Niches that Gets AdSense Approval Fast
How to Get Started…
Simply pick any of the topic that interest you to start a blog.
If you need help, you can hire me to create it for you.
After creating it, start building a buyable audience from scratch, nurture it until it begins to make money for you.
Read Also: How to Get a Successful Blog even If you Don't Know how to Write
Success!
Get Free ₦1,000 plus 5% - 15% interests on savings and over 25% return on investments: Create a Free Account on PiggyVest