In this guide, I'll show you the steps to build a buying audience from scratch in any niche. building a marketable should be your first consideration if you want to make money online. Your success in any online or offline business depends on the ability to grow followers who are ready to buy from you or your recommendations. I'll explain…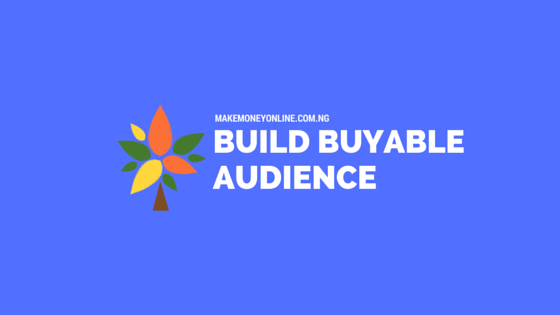 One of my reader called me last week on the phone… After greeting me he said;
"I'm really impressed in what you are doing on your blog. You are really a problem solver".
I told him welcome, and asked "so how may I be of help to you?"
He answered "I recently read your guide on how to make money selling information products online and I became really interested in implementing  it. I want to ask, after creating my information products, who will I sell it to and where will I sell them?"
I asked him if "I had an eBook on "How to Build a Buyable Audience" will you buy it from me?
He said, "Yes, I'll happily buy"
I asked him "Why?" And he said because he like the way I'm explaining things and everything I wrote on my blog are useful.
For me, I know that he has become a member of my buying audience. He want to buy from me directly. Others are willing to buy from my affiliate links. This is because I took time to build the audience through blogging.
This blog makes at least $2000 every month from affiliate because the audience is marketable.
I told him he has to create a market for his products or services. And that's when building a marketable audience becomes paramount.
What's a Buying Audience ?
A buying audience is a group of people who follows your messages and are willing to buy from you or your links (referrals).
These may be from;
(1) your blog readers,
(2) YouTube subscribers,
(3) email subscribers,
(4) social media
(5) admirers etc.
Members is these categories listed above make up a buying audience if they able and willing to buy from you or your recommendations.
How to build a Buying audience from scratch.
Now that you know what a buying audience mean, let's see how you can create it. Yes you need to create it if you want to make money online. Here are steps to follow:
1. Choose a topic or course (Niche): There are so many areas of human endevour ranging from childbirth to death. These are daily activities that help human beings to survive. Many of these endevours involve exchange of money and this is where you put yourself in-between.
A typical example is this blog you are reading – makemoneyonline.com.ng. I choose to teach people on how to make money online legitimately and that's my message, topic or niche. I hope you are following me.
So the first thing to do when building a buying audience is to choose a topic or niche. This is what you'll talk about. This is what your audience will know you for.
Important: Knowledge of subject matter is very important here. When choosing a niche, please make sure that you not a novice about it. The best thing is to talk about what you know or love to do. That's the reason why many people in Western countries make billions or dollars from ordinary hobbies.
Also make sure that they'll be potential listeners to your message. Don't just talk about uninteresting stuffs and expect to make money.
2. Create a Buying Audience Online:
Start talking about the topic you chose in step 1 above. The best way to do it online is to create a blog.
After creating a blog, write about 2-3 articles every week on topics related to your niche. You probably will not make money from your blog in the next 6 month or 1 year. Don't panic friend about that. Just continue and be consistence for quite a long time and you see positive result.
A typical example is a popular blogger in Africa  Linda Ikeji. She started blogging far back in 2006 and that consistency sincce that time till now is a big contributor to her success. It didn't just come over night friend.
Blogging is just one way to build an audience online. There are many others ways.
3. Create a YouTube Channel: YouTube has made it easier for common people like us to launch a personal TV channel at no cost. Gone are the days when you'll have to pay exorbitantly fees to buy minutes in traditional TV stations. But with YouTube, you can just create a channel within minutes and upload your videos.
So after choosing a topic or niche, you can go ahead to talk about it via YouTube. I have developed many YouTube channels to few of my blog readers here. A friend of mine who is doing makeup training on YouTube is now making it big. The reason is that YouTube is very popular (2nd largest search engine in the whole world).
If you message is palatable, you will build huge followers in the form of subscribers. Yes, many of your followers will eventually want to buy from you or your links. It works perfectly well.
4. Have a social media presence:
Social media is one of the best place to gather and build a buying audience. These are (but not limited to) Facebook, Twitter, LinkedIn, Google+.
Many people use Facebook just for fun of it. They are very happy to post their pictures and wait to count how many people will like them. Yes, its certainly part of it but there's more you can do with Facebook. Why not create a page, talk about marketable topics and build a marketable audience from there?
Just like other social media networks, Facebook and twitter are used by social media marketers to capture leads, sell products or services.
So instead of wasting your time on them, think again on how to make money from social media.
How to maintain your audience after building it
Now that you know the ways to create an buying audience online, the next thing is to have them with you forever. Yes, I mean forever.
Research has shown that anyone who bought from you with satisfaction will tend to buy from you again if you have something more to offer. This suits the adage that said "one good turn deserves another" . So maintaining your audience becomes very important just like creating it.
The best pay to maintain your audience is through email subscription. There are many email marketing software you can use to maintain your audience online. I will personally recommend Getresponse or Milerelite. Both are cheap, easy to use and have high delivery rates. These are the email marketing software I use to send autoresponder messages to my subscribers.
Apart from using the email marketing software to communicate with your audience, you also use it to create and maintain a buying audience online and this is the most important step for any successful business.
A huge email list (of about 20,000 subscribers) is an asset if you know how to make good use of it.
Do you want to make money online? If yes, start to build a marketable audience online today. What do you think?
Get Free ₦1,000 plus 5% - 15% interests on savings and over 25% return on investments: Create a Free Account on PiggyVest