Do you want to make money online? If yes, then start a news blog. In news blog, you'll publish recent new and events that's happening around your community, state or country.
You can even choose to cover international news if you have genuine news sources. The good thing is that you can setup your news website within hours using WordPress.
Why should you start a news website or news blog?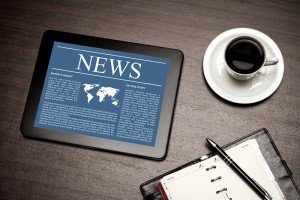 News are recent information that happen around us. People like to know what's happening in the world. There are so many reasons why you should start news blog. These are;
1. High readership: More people are interested in reading news and the more people that read your website, the more money you'll make.
2. Information is easy to find: In news niche, there's always available information to publish on your website or blog. Unlike niche-specific blog, news publishers don't suffer from lack of blog topic ideas since because there are so many things to report in our community.
3. Easy to Monetize: Its very easy to make money from news websites or blog. This is because you'll not need to spend much time to study your reader's interest. Most news websites or news blogs simply make money through contextual ads, display ads, sponsored post and so on.
What you need to start a news website or news blog
Here are the few things you'll need to start a news website or news blog.
What you need to start a News blog
There are few thing you will need to start a review blog that matters. here are the list below.
1. Computer (laptop) and internet service
2. Good web hosting: because you are expecting a huge traffic, I recommend that you buy a good web hosting from the USA. I recommend Bluehost.  They will give you free domain name during signup.
3. Gossip blog theme: For you to start a gossip blog that matters, I will advise you use a premium theme made for news blogs. Few of them are reHub, CrazyBlog,  or Hits. All of these themes are ready-made responsive affiliate themes. No coding knowledge needed to setup your gossip blog.
Once you have this, follow the process on how to setup your blog.
Get Free ₦1,000 plus 5% - 15% interests on savings and over 25% return on investments: Create a Free Account on PiggyVest