I can safely presume that you have joined the online community to make big money.
Isn't it so.
If I am not wrong then stay with me, as here, I will show how to make money online with DomainKing.NG Affiliate Program.
I have shared the complete list of '30 ways to make money online in Nigeria' on my homepage and out of that  Affiliate marketing is by far my most favorite way to make money online.
Today, I have come up with DomainKing.NG Affiliate Program that is revolutionary in Nigerian Hosting Industry as it is providing 80% commission for each hosting referral.
Let me tell you that DomainKing.NG is reputed and popular domain & hosting provider. It is very popular among Nigerian bloggers for cheap domains, hosting & 24*7 timely customer support.
You may have already heard about them but in case you are not. Do check my mercilessly honest DomainKing.NG review 
So, it makes sense to promote DomainKing hosting to earn decent commission and I have shared all the details you would need to start making money with their Affiliate Program.
Promote DomainKing on your blog or on your Facebook page to earn upto N57600 per sale.
Signing up takes only few minutes and it is totally Free.
There is no cap on amount of Commissions you can receive.
Easy payment method via Bank transfer in Naira.
Why Promote DomainKing.NG Hosting?
DomainKing is the only Nigerian Provider that has a good affiliate program. They are providing flat 80% commission to their affiliates and they are giving almost all the earnings of first year to their affiliates.
Best Web hosting in Nigeria:
DomainKing is known for their cheap and reliable web hosting in Nigeria with Free Domain with all hosting plans.
Following are some of the hosting features:
Unmetered Bandwidth: DomainKing provides Unmetered Bandwidth with all their hosting plans while their King Plan has unmetered Diskspace as well.
 Full Email Suite:Supports Webmail, SMTP, POP3, Forwarding to other Emails.
Free Domain:They offer Free .COM, or .COM.NG Domain with their hosting plans.
CMS & Ecommerce Support:They provide 1 Click Install for all CMS & Ecommerce Softwares like WordPress, Oscommerce.
Loads of Tools:CPanel, File Manager, DNS Manager, phpMyAdmin, Website Statistics & lot more.
Customer Support:You can reach their customer support team anytime you need help with anything.
Huge Commission of 80% on all plans:
It is first of its kind affiliate Program in Nigeria is providing flat 80% commission for every hosting referral. So, you can earn up to maximum of N57600/referral that becomes $144.
That is even bigger than many international hosting providers as you may know.
Moreover, no other Nigerian Hosting provider even comes near to this figure as you would have seen many are giving 15%-30% commission while some don't even have an affiliate program. So, it makes sense to promote DomainKing hosting to get flat 80% commission.
I recommend you not to leave this great opportunity to earn huge commission by joining DomainKing Affiliate program.
Affiliate Program to Encourage Nigerian Bloggers:
Let me tell you that DomainKing wants to encourage Budding Nigerian Bloggers & webmasters as it can be seen from their initiatives.
As recently they have started to provide Unmetered Bandwidth will all the hosting plans. This move can be a great opportunity for affiliates to attract sales as many of web hosting seeks look for unmetered Bandwidth & disk space.
As a responsible provider, they will even help you what things you need to do to make sales with them. You can contact their support on their email support[at]domainking.ng for more details and any clarification regarding their affiliate program.
So, don't wait anymore and join their affiliate program and let me know your story.
How to sign-up for DomainKing Affiliate Program?
Signing up DomainKing Affiliate program is pretty easy and it takes only a few minutes to do that.
You don't need to have anything special besides having a Nigerian Bank account to receive your earnings.
Register your account at Domaninking.NG/affiliates
You will see a signup button over these. Click on Signup Now.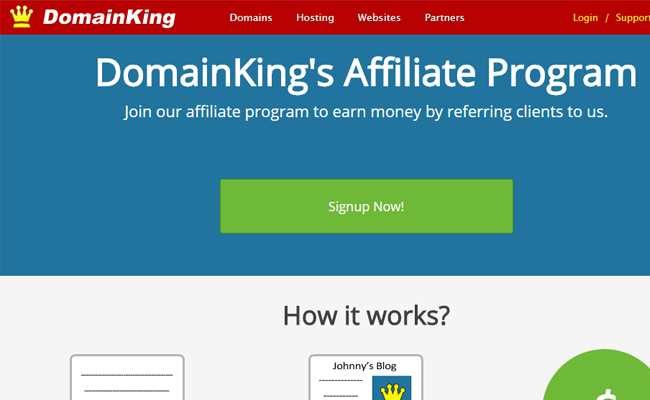 It will take you to the Account registration page, enter your name, email and address details and all the required details.
You will also need to set your password for account. Click on continue at the bottom of page.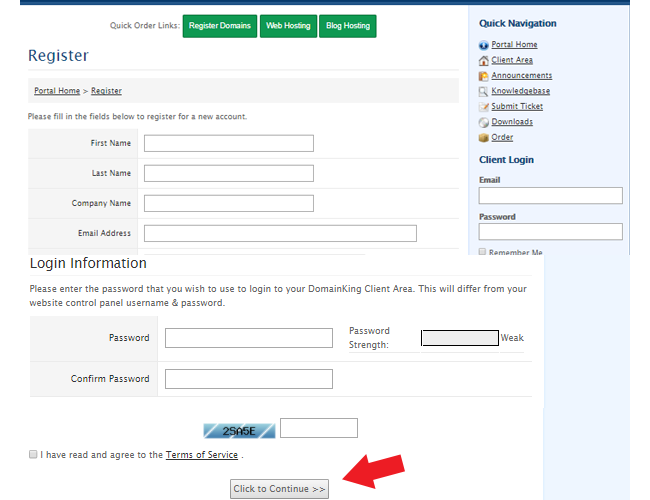 After filling the signup form, you will be logged into your client area and you will now need activate your affiliate account.
Click on Affiliates from the top Navigation bar and after that click on activate as affiliate
You will now get a unique affiliate link for your account. It will be something like this: https://clients.domainking.ng/aff.php?aff=756
You just need to send the users to buy hosting via your affiliate link. Because only then it will get tracked by their system and you will get the commission for that sale.
Moreover, you can add the banners on your website that you can get from your affiliate  panel
You will be able to view all your referred users in the panel. You earnings will mature after 45 days of order activation.
You will also get N500 as the signup bonus and it will be visible in your affiliate panel. when your earnings reach N1000, you can ask for the payout.
If you need any help with affiliate signup or payout then you can contact their support 24 hours round the clock. You can reach them at support@domainking.ng or affiliates@domainking.ng for payout request with your Bank account details.
How to increase your DomainKing Affiliate earnings?
 Add banners of DomainKing on your website to attract your visitors to buy hosting. You can get the Banners from the affiliate section.
Write useful articles such as "How to start a blog" where your readers would like to hosting. There you can recommend DomainKing hosting via your affiliate link.
You can write high quality "NG Review" like the one I have shared on my blog.
Share DomainKing Coupons & your affiliate link on your Facebook pages and forums to boost your sales.
Tell your friends to buy hosting from DomainKing.NG via your affiliate link. This will also work as it is referral but keep in mind not to buy hosting for yourself as they don't allow self-referrals.
I hope this article will greatly help you to make money online via your blog.
It's now up to you to give it a try and let me know how it goes.
Get Free ₦1,000 plus 5% - 15% interests on savings and over 25% return on investments: Create a Free Account on PiggyVest