In this guide, I will teach you how you can start selling services online to make money. Just like selling physical products or digital products, you can sell professional services to others and they will pay you.
Selling services online involves helping another person on the internet to achieve one to more goals. Some people call it as freelancing. It's one of the best ways to make money online.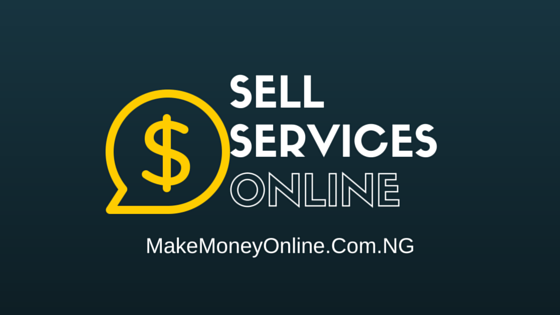 Who Should Sell Services Online ?
In fact anyone can sell a service online. Its very suitable to job seekers.  I often said, if you have graduated from school, try to do something while you wait for your dream job.  I have some friends who are making huge amount of money from selling services online to other people.  Even myself, I make nothing less than N120,000 every month from services I listed on the hire me page.
Why Should You Start Selling Services Online
There are various advantages of selling services online, these are;
More client base: Internet is huge and you will have access to many clients especially if you have little internet marketing skills
Good payment: Payment is very okay for services rendered online. Most service platforms allows to to charge clients in dollars. This is good when you compared to the domestic exchange rate.
Convenience: selling web services requires you to work from home at your own convenience. All you need is to meet the target in delivery high quality services at a stipulated period of time.
List of Services you can Sell Online
There are so many services you can sell online right at the comfort of your home. Few popular ones are;
Writing and Translations: (very popular) – Articles & Blog Posts, Creative Writing, Translations, Proofreading & Editing, Transcription, Business Copywriting, Resumes & Cover Letters, Research & Summaries, Press Releases, Legal Writing.
Graphic & Designs: These are Cartoons & Caricatures, Logo Design, Illustration, Book Covers & Packaging, Photoshop Editing, Presentation Design, Flyers & Posters, Business Cards & Stationery, Banner Ads, Social Media Design, D & 2D Models,  Web & Mobile Design, Invitations, T-Shirts, Vector Tracing, Infographics
 Digital marketing: These could be – Web Analytics, Domain Research, SEO, Social Media Marketing, Web Traffic, Video Advertising, Content Marketing, Email Marketing, SEM, Local Listings, Influencer Marketing, Marketing Strategy, Mobile Advertising
Video and Animation:  these are – Whiteboard & Explainer Videos, Spokespersons & Testimonials, Intros & Animated Logos, Promotional & Brand Videos, Lyric & Music Videos, Editing & Post Production, Video Greetings, Animated Characters & Modeling.
Music and Audio: These could be – Mixing & Mastering, Jingles & Drops, Voice-overs, Sound Effects, Session Musicians, Producers & Composers, Singers & Songwriters
Programming and tech: WordPress, Web Programming, Mobile Apps & Web, Website Builders & CMS, Convert Files, Ecommerce, User Testing, Databases, Desktop applications, Data Analysis & Reports, Support & IT
 Advertising:  Hold Your Sign, Flyers & Handouts, Human Billboards, Pet Models, Outdoor Advertising, Radio, Music Promotion, Banner Advertising.
Business: Business Plans, Career Advice, Market Research, Presentations, Virtual Assistant, Business Tips, Branding Services, Financial Consulting, Legal Consulting.
Lifestyle: Animal Care & Pets, Relationship Advice, Diet & Weight Loss, Health & Fitness, Makeup, Styling & Beauty, Online Private Lessons, Astrology & Fortune Telling, Spiritual & Healing, Cooking Recipes, Parenting Tips, Travel
Gifts: Greeting Cards, Unusual Gifts, Arts & Crafts, Handmade Jewellery, Gifts for Geeks, Postcards, Recycled Crafts.
Fun and Bizarre:  – Your Message On…, Extremely Bizarre, Celebrity Impersonators, Daredevils & Stunts, Pranks, Dancers, Just for Fun
Things you Need to Start Selling Services Online
Knowledge: You will need to have knowledge on any of the service you may want to sell online. Check the list of services above to see which one you can offer. That may bring your next financial breakthrough.
Personal Computer(laptop): Blogging is done on the internet. So you will need a computer. I recommenced you buy cheap laptop from here from Konga and pay on delivery.
Moded/Smartphone: For internet services you need to have a modem. Buy Modem here. Like myself, I am currently using Gionee Elife S Plus >> Buy it here. I connect the internet using hotpot. The browsing speed is super-fast.
Internet Service: It's very good now that the price of data is cheaper  than before. You can use MTN, Airtel, Glo or Etisalat data bundles to browse. Check the latest data bundles from various service providers and how to subscribe here.
Power Source: You will need a power source like NEPA or generator. See: 5 Best Alternative Power Sources amid Fuel Scarcity in Nigeria.
CMS software: I recommend WordPress, it's free and easy to use.
How to Start Selling Services Online
Now you have everything in place, the next thing is "TAKING ACTION". Just like selling physical products, you can decide to either create your own service business website or partner with already existing freelancing websites.
1. Sell Service Online on your Own Website
You will need to create a website for your services. Note that this is where your potential clients will see your service offers. Make sure your website is very attractive and have a professional look to attract the customers. I wrote a lesson on how to create a business website. If you don't know how to create a website you can hire me to do it for you.
2. Sell Service Online on Existing Freelance Websites
As I said earlier, you can start selling services on already existing freelance services. Few ones are;
sell services on fiverr.com

sell services on

Freelancer

sell services on

Upwork
sell services on Elance

sell services on

Toptal

sell services on

Craigslist

sell services on

Guru

sell services on

99designs

sell services on

peopleperhour

sell services on

Freelance Writing Gigs

sell services on

SimplyHired
Also, there are websites that hire freelance workers on daily basis to perform routine tasks. A typical example is one of my blog infogudenigeria.com. If you want to apply visit InfoGuideNigeria.com/Career
The advantage is that many of them accept workers from Africa and Asia and they pay via Payoneer if you don't have PayPal account.
Your Thoughts!
The economy is hard but only lazy people complains about it. You can renders services online and make serious money from it. This might be a nice online business idea, what do you think?
Get Free ₦1,000 plus 5% - 15% interests on savings and over 25% return on investments: Create a Free Account on PiggyVest