In this lesson,  I'll show you how to make money from Instagram by uploading photos online.  Many instagramers are turning in millions of dollars every month from the platform. So you too can also make money from Instagram and that's what I'm going to show you in the post.
What is Instagram? 
Instagram is the world largest online mobile photo-sharing , video-sharing , and social networking service that allows its users to take pictures and videos, and share them either publicly or privately on the app, as well as through other social networking platforms, such as Facebook , Twitter , Tumblr , and Flickr.
Why should you consider making money from Instagram? 
Being a very popular social network,  Instagram has huge amount of web traffic. So, smart marketer are making big money from Instagram.
How to Make money from Instagram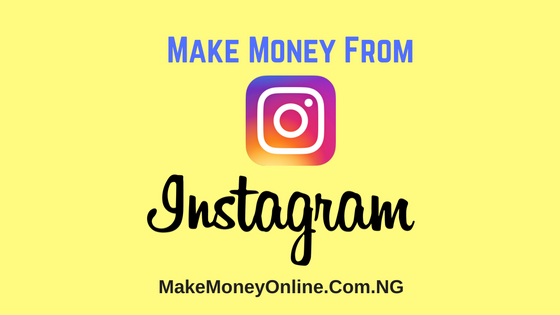 1. Setup an attractive profile 
On Instagram,  you are only allowed to embed your website link on the profile section.  So,  it's very important that you spend sometimes in writing a very captivating intro about yourself or your business. Also make sure you put a link to your website or store
2. Publish images that are relevant to your business.  This is very important so that your Instagram followers will likely develop interest towards your business.
Just like email marketing,  make sure you serve your subscribers what they need from you but not uninteresting things
Sell Products there 
You can sell products direct to your Instagram followers by informing them about your products benefits and how to purchase them.
Use Instagram to drive traffic to your website: this strategy is viewed as the most valuable part of Instagram. You can drive serious internet traffic to your site by posting interesting stuffs regularly.  Make sure you describe your images and label them accurately.
If you are looking for a well targeted market to start your business,  then Instagram is a good place to get customers or clients.
I have personally used Instagram to make some sales of my e-books ans get traffic to my blog. You too can also benefit from it.
Read Also: 11+ Ways Make Money Online from Facebook
So,  give it a try and you'll be amazed at the result.
Get Free ₦1,000 plus 5% - 15% interests on savings and over 25% return on investments: Create a Free Account on PiggyVest