In this guide, I will show you how to create an online store from scratch. Starting an online store or online business is not a big deal. With these 6 steps, you will get it done within few hours and start selling online.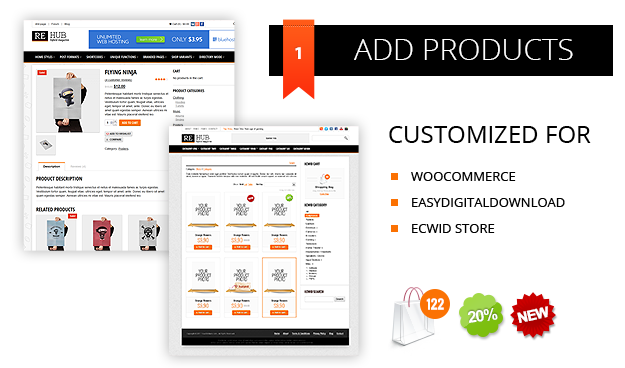 WHAT IS AN ONLINE STORE
Online store or eCommerce store or online shop as some people may call it, is an online website where you can sell what you have. You can sell virtually anything of your choice, ranging from food stuffs to cosmetic, automobile and many more. Examples of an online store are Jumia, konga, Ebay and host of others.
HOW TO SET UP AN ONLINE STORE
To set up an ecommerce store does not involve too much money, you just need three basic things (Domain Name Registration, Web Hosting and Ecommerce Application).
1. Domain Name Registration: This is the name of the website. Whether you want to start an ecommerce store or just want to have a website, you need to have a domain name to point people to your hosting platform example of a domain name is boldright.net, www.jumia.com, www.aliexpress.com. Domain Name is not really too expensive and few domain registration company like Bluehost will provide you cheap domain name.
In Nigeria and other developing countries, the easiest way to start an online store is by using Shopify eCommerce software. They have everything you need in a drag and drop mode.
With Shopify, you can create your own online store within minutes even if you are not a web developer. The good thing is that you can try it out for 14 days for free. If you are satisfied with their services you then pay $29 per month.
2. Web Hosting: This is the hosting space that your content or store pages will reside. Without this, you won't have any place to store your online store content.
In choosing a web hosting, you need to choose a good company. You can buy web hosting or ecommerce hosting or application hosting; then use it for your online store.
Many web host don't sell hosting so cheap, but some few companies like Bluehost has helped a lot of people. You can get cheap web hosting from fajiweb starting from N83/month and N1000/year.
4. Ecommerce Application: Ecommerce Application is the application or software that needs to be on the website. This application is the software that helps you to automate the ordering and purchase of your goods. There are custom application and non custom applications.
Read: How to Create a Niche Affiliate Shop and Make over N10,000 per Day
5. Custom Application are very good but very very expensive, this application is an application that a website development company develop specifically to meet the requirement of a client and the application is just for only that client.
6. Non Custom Application is also very good and less expensive. It is what majority people use on their online store. The application is not specifically develop to meet the requirement of any client and the application is not for only one client.
This application has been developed for public  use, you just download and customize to your needs then upload to your hosting account; and it will interest you to know that majority non custom applications are free.
Among these applications are wordPress (woocommerce), Abante Cart, PrestaShop, OpenCart, Magento , Zen Cart, CubeCart,  osCommerce, Open eShop, Loaded 7 ,TheHostingTool, TomatoCart, Avactis, LiteCart, Quick Cart, X-Cart, Simple Invoices, CS-Cart, Open Source Point of Sale, AlegroCart , Axis commerce, phpCOIN,  SeoToaster E-commerce,Thelia 2 E-commerce software, Zeuscart shopping cart, Invoice Ninja,  ClientExec, Shopware , Arastta , InvoicePlane, PEEL SHOPPING, osCmax and so many more
Few website hosting companies like Bluehost has one click installer that can install the ecommerce applications on the site for you for free without no extra charge.
The best auto installer is softaculous because it has over 340 softwares and scripts that you can easily install in your website without any issue. It can help you install online shopping cart, forum, blog and many more.
THE ADVANTAGES OF USING ONE CLICK AUTO INSTALLER
It saves you the time to be searching online to download the online shopping cart that you need.
It saves you time to download and re-upload to your hosting server
It reduce the headache and stress of installation
It removes the burden of how to install it because it is already configured, all you just do is to click on the install bottom and the website is completed
It eliminate the hypertension of looking for huge amount of money to pay the web development company that will help you out
It reduces your cost of browsing or development
The most beautiful part of this auto installer is that you easily learn how to develop a website during the process of use and you don't need to be a website designer to be able to use it, in as much as you can read, write; and at least you can be able to operate the computer, you are set to design your website yourself.
WHO TO HELP YOU DEVELOP YOUR ONLINE STORE
You can either develop the website by yourself or you contract it to a web development company to do it. In doing it yourself, if you can develop the custom applications by yourself, that will be great, but if you can't do it, just download one ecommerce software from among the good ecommerce that are mentioned above.
There are many companies that offer website design or website development even at a cost close to nothing and very few offer free website design.
Many of the companies that offer free website design will require you to buy web or WordPress hosting from them or pay yearly access charge, while they give you free web hosting, free domain name registration and free website design.
OTHER THINGS TO CONSIDER WHEN SETTING UP ONLINE SHOP
In setting up a site to sell as ecommerce website, at part from the three basic things I mentioned above earlier (Domain Name Registration, Web Hosting and Ecommerce Application); there is also another thing to add or you may wish to consider. I never said about it since because it is not a major and must thing to do, but doing it will help you greatly especially if you want to record huge sales in this modern day market.
Among the other things to consider are SEO and Advertising, Online Payment and Physical Address. SEO and Advertising plus Online Payment are the most essential to your business, but that does not mean having an address that people may likely visit if you wish to be receiving people in your office is bad, infact having an office location will be so great because due to the online fraud that occur in every part of the world today, few people will actually want to visit your place to confirm that you are not a scam company.
But if you have made huge success like jumia, ebay and the likes, nobody will ever be interested in your office because they are very confident that whenever they make a purchase, you must surely deliver the goods or services to them in their chosen location during ordering.
Since we have talked about (1) Domain Name Registration, (2) Web Hosting, (3) Ecommerce Application; now let's talk about (4) SEO and Advertising, (5) Online Payment Solution, and (6) Physical Office Address.
(4) SEO and Advertising: This will help you in popularity. It will help people easily find you in search engines especially in google.
To do SEO and Advertising, you need to do it yourself through google, Facebook, twitter, yahoo and the likes. You can also contract this segment to an SEO and Advertising company or specialist to assist you.
In doing SEO and Advertising, email blasting and SMS marketing will never be over looked as they have a great role to play for you. You may contact us for any more information you may need concerning SEO and Advertising Marketing Solution.
(5) Online Payment Solution: In today's market, everybody is going cashless in the world. Based on this, a lot of people will be using their ATM Card, Credit/Debit Card and many more to make purchase from your website.
For you to be able to receive their money successfully, you need to have an online payment gateway to help you out. The online payment are not giving free on transactions as you may be charged transaction fees, gateway fees, setup fees, deposit fees, withdrawal fees and many more depending on the payment gateway you are using.
The good news about this is that most of the fees mentioned can easily be passed to your customers so that your customers pay for it as they are paying for your products or services; and if you choose to pay for it yourself, the fees are very small. They are what you can easily pay for without any stress.
There are many online payment gateways or third payment processor that you need to register or partner with to help you in your online payment collection; among the payment platform are interswitch, etranzact, zenith global pay, gtpay, voguepay, cashenvoy, 2checkout, and a host of others.
(6) Physical Office Address: Every business needs a physical address. This address may be a contact point or a connection point or a business point for real customer relationship and good business transaction.
The address may either be your company address if you have one and welcome visitors in your office, or it may be your home address or a friends office that act as a care for you.
I guess you have learnt enough to help you start making money online. Don't get scared, get started now!
If you have any question, ask us in the comment section below. If you are confused, join my email training for more guides.
Get Free ₦1,000 plus 5% - 15% interests on savings and over 25% return on investments: Create a Free Account on PiggyVest