Are you still looking for a lucrative online business to do? If yes, have a look at this one – a hotel booking website. It's very lucrative and it's not very competitive.
Also, there are emerging cities and increased interstate movements as well as influx of visitors to the country. This makes this business very lucrative.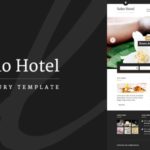 This one of the most effective ways to make money online.
In this lesson, I will show you how to open hotel booking website using WordPress.
WordPress is one of the most popular content management system. You can do this yourself even if you don't have any web design skills.
Just like Hotels.ng or Jovago.com, you will be able to create to fully functional and beautiful hotel booking and reservation website.
On top of that, I will show you how to hotel booking websites make money and strategies you can implement to monetize your own.
How Hotel Booking Websites Work
It's a website where visitors can book for hotels and make payment online. After payment, the website automatically sends acknowledge receipt to the user.
You as the admin of the website will then go ahead to reserve the hotel accommodation for the buyer.
How Hotel Booking Website Owners Make Money
Owners of hotel booking websites make money from the following:
1. Booking Commission: It's like an affiliate business. Hotel booking website owners make booking commission from the hotels their are partnering with.
2. Premium or Sponsored Listings: There are some hotels that will want to get more customers from your site. They will pay you higher to list their hotels in a visible locations on your site so that visitors can see and book. You can make extra money from here.
3. Advertising: You can make money with Google AdSense and other advert placements on your site.
How to Open Hotel Booking Website Using WordPress
Now that you know a bit about hotel booking website, let's see how you can create it.Follow the steps below:
1. Choose a domain name: A domain name will represent the web address to your website. a typical example of an available hotel booking domain name is by adding suffixes or prefixes to the main word.
2. Buy web hosting with free domain name. I recommend Bluehost. They will all give you a free domain name when you buy their hosting plans.
3. Install WordPress on the hosting [FREE]
4. Buy and Install Premium Hotel booking theme and plugins. There are many top WordPress hotel booking themes. I recommend the following theme: Lotus, Hillter, Soho Hotel, or Flawless Hotel. All these are premium themes.
You can also google WordPress hotel booking theme free download if you can find any.
There are also WordPress hotel booking plugin with payment as well as WordPress hotel booking plugin free download. I don't recommend free ones because they have a lot disadvantages.
Here are the top wordpress room booking plugins that I recommend: HBook,  Online Hotel Booking System plugin, WooCommerce Hotel Booking Plugin.
These are multi hotel booking system for wordpress you can use.
After that…
5. Customize your Booking Website: You will need to do minor customization to make it look good. You will create some pages such as "About Us", "Privacy Policy" "Terms of Services" etc.
You are ready for business.
You can see how it's easy to create hotel booking website using WordPress. However, if you find it difficult to do this, you can hire me to create it for you.
Get Free ₦1,000 plus 5% - 15% interests on savings and over 25% return on investments: Create a Free Account on PiggyVest