Have you heard of affiliate store? It's a very new business model you can use to make up to N10,000 everyday if you do it well. I have done it and the result is awesome.
Are you tired of writing articles for a blog? Are you tired of waiting waiting for search engines to rank your blog before you begin to have readers?
If, yes…
Try building affiliate shop today. The results is immediate.
I will show you how to do it in  this lesson.
Building affiliate shop is the best alternative to those who don't like blogging. That means, if you don't want to write articles or simply don't any waiting period before you start making money, you can simply create an affiliate store now.
After creation, you can start making money from it immediately. I will tell you everything you need to do.
Note that you will  make a little investment to create a working affiliate shop and also pay for advertisement. This is a more advance ways to make money online if you don't want to blog.
What is Affiliate Shop?
This is still affiliate marketing, but in different format.  Affiliate shop is a full functional online store just like Konga and Jumia.
The only difference between affiliate store and traditional online store is that you will not be involved in the real product sales and delivery. You only wait to get your sales commission if any sales took place from your link.
See it in the picture below;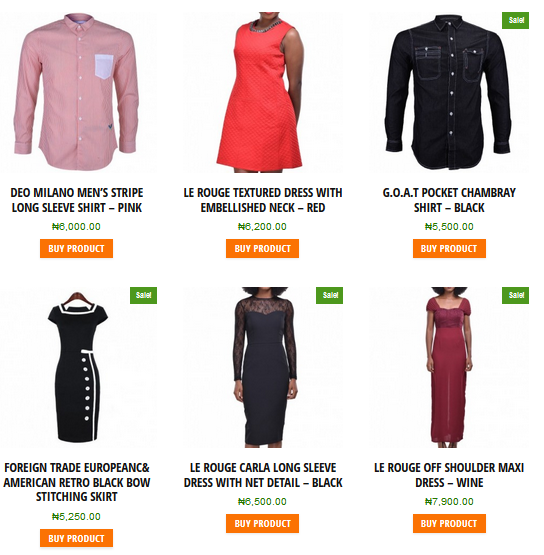 You can see the different fashion product on the store.
You can see their prices as well as "BUY PRODUCT" button.
Once someone clicks on the button, the link will take the person to an affiliate online store e.g Konga.
You work is very simple here. You only need to send the potential buyer to the merchant website. If they buys anything there, you will receive a sales commission.
Konga pays as high as 9% commission on fashion and apparels products. So, imagine someone who shops like my girlfriend (in bulk) buys many things at a time, you can simply smile with reasonable commission.
You can create an affiliate store in any given product category. It can be food, furniture, phones, electronics etc.
That's how affiliate shop works.
In this lesson, I will show you how to create your affiliate shop from scratch. Simply pay full attention to this lesson.
For illustration purpose, I am going to use Konga affiliate in this lesson.
What you will Need…
These are the full list of all you will need to create your fully functional affiliate shop online. We will create the affiliate shop using WordPress self host (WordPress.org).
(1) Custom domain name: You can buy domain name from Godaddy with just $0.99
Warning! Please do not use the free domain given by your web hosting company to do any serious thing. In fact, if you have a way refuse it. Always buy your domain name and hosting separately. It could be from the same vendor but your main business domain name should not be linked to your hosting. 
(2) Hosting Account: You will need to host your affiliate shop on a good Hosting platform that will guarantee speed and reliability. for web hosting, Signup for Bluehost

(3) Affiliate Review Theme: The best theme for this is ReHub Affiliate shop Theme for $59
(4) Konga Affiliate Account [FREE] – Signup here
(5) Advertising: You will need initial $50 to advertise on Facebook and AdWord.
Total of about $113.48 = N22, 585.92
That's all you need to create an affiliate shop including money for advertising on Facebook.
How to Fix it up?…
Don't worry, I will tell you how you will fix everything up to bring you more money. Sure, I am supposed to sell this information but I am giving it out for free.
Now let's begin…
(1) Point your Domain: Map your domain name to your hosting account. You may need to change the domain nameservers depending on where you bought it and where you will want to host it.
(2) Install WordPress: After pointing your domain to your, install WordPress on your hosting account. many web hosting companies now have one-click WordPress installation. So, its not difficult to do this at all.
(3) Customize your Blog: After Installation, do the necessary first time customization on your WordPress blog. I will soon publish a lesson on what you should do after installing your WordPress.
(4) Install your Affiliate Shop Theme: Now, install the ReHub Affiliate Shop Review theme on your blog. After that…
Your blog will now have the basic functionality of an eCommerce website with shop and review features.
See the picture…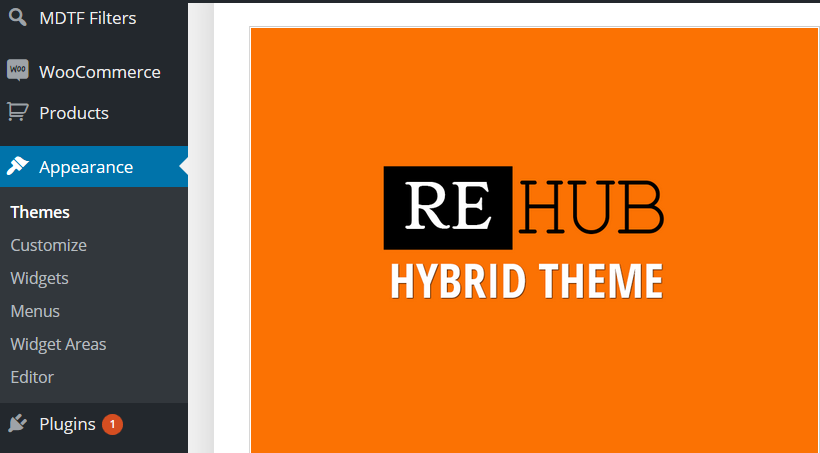 (5) Install WooCommerce Plugin: After the main customization, download and install WooCommerce Plugin from WordPress repository.
After successful installation, Your blog will have a full features of an improved eCommerce website featurs. Now activate the plugin.
Next… go to the plugin settings to setup your currency and other details.
You will realize the upon activation, the plugin has added and extended functionality on your blog. The plugin has also create some custom pages such as store, checkout and so on…
Here, you will only make use of the store page.
The next step…
Important: See the Best Web Hosting Company for New Bloggers
(6) create a new page and call it "Blog". To DO this… Go to Page > New, type in Blog and click publish.
Now you have a page called "Blog" and another one called "Store" which you can call it anything e.g "trending fashion" like I used on FashionStrategy.com

You will also see an additional menu where you can add new products. See the additional menu as shown in the picture below;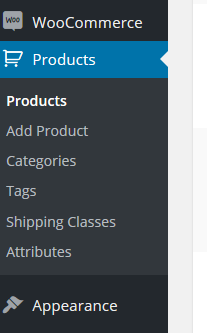 How to Add your Product to your Affiliate Shop

Follow the steps below to add your product to your store…
(7). On the vertical menu in you WordPress dashboard, Click on "Add Product". You will now be taken to where you will add your product to your store.
(8) Next,  Login to your Konga affiliate dashboard to get your deep link identifier. Or yet still, use the deep link generator to get your affiliate url to your product of choice.
I will do a video tutoeial on that…
(9) Fill the Pruduct Information: Now, on the "Add Product Page", fill in all the product information which are the "Product Name, Category, Image, Product description etc.
Now scroll to the "Product Data" Section. This is where you will add sensitive information about your product.
See it n the picture bellow.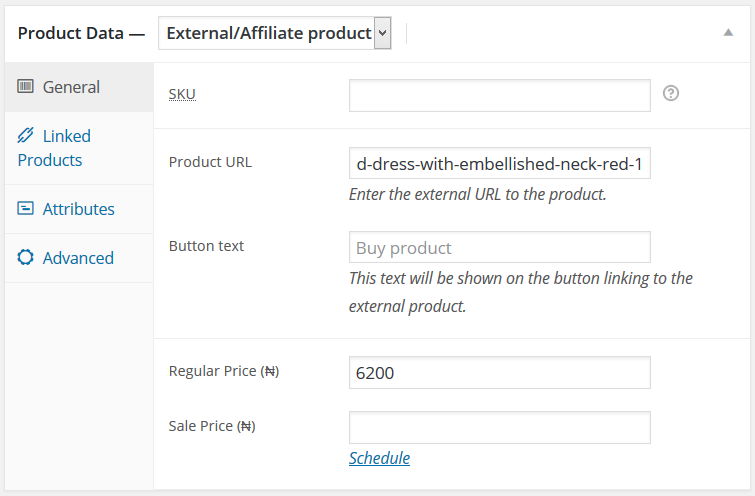 Click the product data section and select "External/Affiliate Product". This means that the product link is an affiliate link and it will open to an external website which is the merchant website, in this case Konga.com.
Next… insert Konga affiliate link (with your affiliate identifier code) on the space provided. Also, remember to set the price (as sold on the Konga website).
(10) Publish your product: Click "Pulish Button" to publish your product.
Repeat the publishing process and be sure you have at least 9 products in display.
Important: See the Best Web Hosting Company for New Bloggers
Last Step…
One your WordPress dashboard menu, Go to Settings > Reading 
as shown in the picture below;

Select the "Static Page" Button and choose "Store" as your from page and "blog"as your Post Page.
Click on "Save".
You affiliate shop is now ready.
Have a look here at ShopDirect.NG. That's a typical affiliate shop. If you click the Buy Product button, it takes you automatically to Konga website. If the person ends up buying anything, I get a commission. That's it.
Now the Final Part is Advertisement.
Your affiliate store is pretty new and nobody knows about it yet. It does not appear in Google and nobody will find it. So, the best thing to do is to run advertisement.
There are three main place I like to run my advertisement. There are
(1) Facebook
(2) Google AdWord
(3) Youtube
My favorite is Facebook. I will use small money to get more visitors from Facebook.
See the screenshot of the ads I ran on Facebook recently and how much I made from that campaign.
Important: See the Best Web Hosting Company for New Bloggers
You can see that I used only $30 (N6,000) to let 67,773 people to know that the shop is alive. That is called reach.
An on top of that… 3,775 people visited the shop. Many of them did not buy something immediately while others had their better shopping experience.
The campaign ran for just five day and I made over sales N80,000 commission. I subtracted the money I used for everything and I kept over N55,000 for myself.
That's how to make money from affiliate shop.
… and I have shared it with you how I did.
It's now up to you to give it a try and tell me how it goes.
I like sharing ideas with my friends like you. I am happy to share them, sure you are happy learning something new today. Everyone is happy and it's fun… That"s what this lesson is all about.
On this blog, I do a lot of things to my readers. Some of the services are free of charge (e.g creating free blog on blogger). Others are with very little fee depending on the nature of the task. So, if you will need any personal service, kindly visit the hire me page for details.
Important: See the Best Web Hosting Company for New Bloggers
Your thoughts!
Let me hear from you. What do you think about this lesson? Or Do you have any question? Ask them is in the enlightened comments section below. I will answer asap.
If you have any question, ask me in the comments section below. I will answer them as soon as possible.
If you are not officially registered for this training click here to do so now.
Cheers 🙂
Get Free ₦1,000 plus 5% - 15% interests on savings and over 25% return on investments: Create a Free Account on PiggyVest