In this lesson,  I'll show you how to make money from online surveys legitimately.  There are many online survey programs online that pays as high as $10-250 per review.
So,  you too can make money online using this idea if you have the needed knowledge. And that's what I'm going to share with you here.
What's Online Surveys?
Online survey is strategy whereby big brands like Coca Cola,  Nestle, or McDonald pay their customers and other people to write what they know about their products or services.
They'll give their customers a small form to fill.  Most surveys take no longer than 10-15 minutes to complete the questionnaire.
The most interesting part that they pay people to participate in the surveys and that's where business comes in.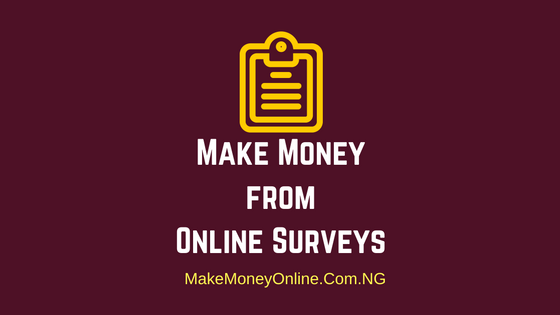 How to Make Money from Online Surveys
Here are few steps…
1. Choose a legitimate Online Survey programs and Join
There are many online survey programs you can join. Most of them will require you to pay some money to join.
Please be careful when choosing an online survey programs because many are scam in this niche.  I'll soon publish a full list of legitimate online survey programs that really pays.
Make sure you signup for many survey programs as possible.
2. Check your Email Regularly
Once you signup for online surverys, make sure you check your email address regularly so that you don't miss any survey invitation.  Like myself,  I create a separate email address for survey.
3. Respond Regularly for Survey Invitations
Make sure you response promptly to any survey invitation you receive. The reason is that most surveys are based on first come first serve basis.  The faster you respond the better.
4. Update your Profile Effectively.
Most of the online surveys you'll qualify for depends on your profile info.  So,  make sure you update it to suit the kind of surgery you are looking for.
5. Choose Surveys Wisely
Most times,  you'll receive more survey invitations than you need.  So make sure you choose online surveys with the highest pay rate.  From that,  you'll make more money from it.
Top 10 Online Survey Websites the Pays
1. Swagbucks
2. Toluna
3. Vivatic
4. MySurvey
5. OnePoll
6. Survey Bods
7. The OpinionPanel Community
8. YouGov
9. Toluna
10. Pinecone Research
How to Receive your Online Survey Earnings
There are many ways to receive online earnings into your local bank account.  You can use PayPal account to receive the money.
Those who don't have PayPal account can receive their payments through Payoneer account.
You can transfer the money into your local bank account here in Nigeria by selling the payoneer funds online or you use web money transfer companies.
That's it about making money from online surveys.  If you have questions,  drop it in the comments section below.
Don't forget to share it.  Sharing means you love this site.
Get Free ₦1,000 plus 5% - 15% interests on savings and over 25% return on investments: Create a Free Account on PiggyVest