In this guide,  I'll show you how to make money from Hostgator affiliate program.  Hostgator is one of the popular web hosting companies in US with data centers in many parts of the World including Europe and Asia. Hostgator affiliate program is one of the high paying web hosting affiliate program you can join to make money online.
Hostgator affiliate program allows bloggers and other site owners to earn sales commissions once they refer someone to buy web hosting package from them.
You too can make money from Hostgator website hosting affiliate program right now.
How Hostgator affiliate program Works 
Hostgator affiliate program works on pay per lead basis.  That mean you have you refer someone to buy any web hosting package from hostgator with your affiliate links. They have technology to tract all your qualified referrals.
Hostgator affiliate program commission rate
You can make up-to $125 commission per signup on Hostgator affiliate program. The amount you make from hostgator affiliate program depends on the number of sign-ups you refer in a month.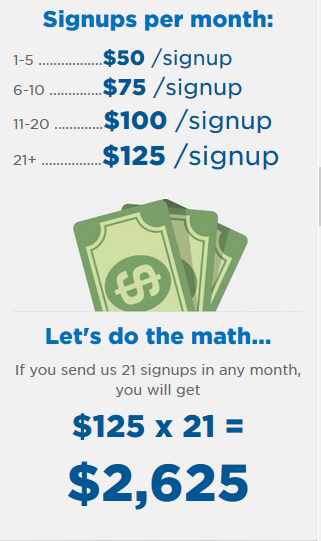 From the picture above,  you can make as much as $2,625 every month if you make up-to 21 referrals.
And the good thing is that you can join Hostgator affiliate program for free and from any part of the World.  It's not restricted to any country like Clickbank.
How to Make Money from Hostgator Affiliate Program 
Requirements to start
1. A blog or website: this is where you'll promote your hostgator affiliate links.  If you don't have a blog yet,  read here >> How to Create a Professional WordPress Blog 
There's is no site quality or traffic requirements to join hostgator affiliate program.  Even a month old blog is qualified.
2. Signup to Hostgator Affiliate Program 
Since you have a blog or website,  the next thing is to signup for hostgator.  Signup is free
3. Start Promotion : Now the next things is to start promoting hostgator affiliate links and banners. To get the promotional materials,  login into your hostgator affiliate dashboard. Get your promotional materials like links or banners and place on strategic locations (posts,  sidebars) on your site.
4. Make money from qualified sign-ups: Once your referrals signup on hostgator website,  commissions from each qualifying sign-ups is then credited to your affiliate account which you can manage in  real time.
Hostgator Affiliate Earnings Payments Method
All direct hostgator affiliate earnings are paid each month via PayPal or check.
Affiliate marketers who join the hostgator affiliate program via partner affiliate program like commission junction or ShareASale can have other payment options like Payoneer.
Before you start,  please make sure you read through the hostgator affiliate  program terms and conditions so that you fully understand what is expected of you and from them in the partnership.
Hostgator Affiliate Program Tips
Here are few tips to make money from Hostgator Affiliate Program…

Share the links inside blog post
Place the hostgator affiliate banners on the sidebar and below post
Make sure you have international readers on your blog
Share Hostgator affiliate coupons promotional links to your email subscribers.
This is just one of the ways to make money online legitimately.  You can give it a try.  Let me know how it goes…
Get Free ₦1,000 plus 5% - 15% interests on savings and over 25% return on investments: Create a Free Account on PiggyVest