Every businesses need a good website especially a digital marketing agency that deals digital technologies.
As a digital marketing company, your website represent your business and acts as a lead generation platform to help get potential clients.
For digital marketing companies, websites are must-have if they want to succeed. But unfortunately, most web developers charge exorbitant fees to create corporate websites and many small businesses do not afford to pay for their web development services.
Moreover, you can create your own website and save some money especially if you don't have a huge budget going forward.
In this post, I will show you the practical ways to create a digital agency website using WordPress.
This is a hand-on guide you can follow to create a website for you digital agency company if you don't have money to hire a web developer to do it for you.
A digital marketing company is involve  in the marketing of products or services using digital technologies, mainly on the Internet, but also including mobile phones, display advertising, and any other digital medium.
The good thing about this business is that you can start with a very low budget especially if you can create your own website.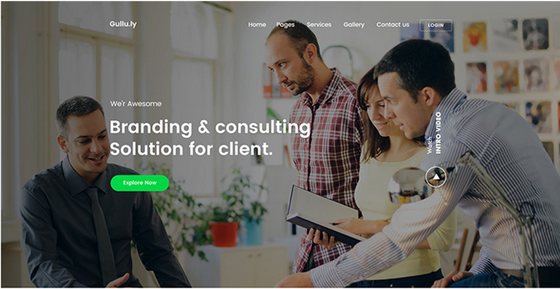 Features of a Good Digital Marketing Agency Website
There are salient feature of a good digital marketing agency website. these include (but not limited to).
Company name (logo)
Good menu
Custom background image
List of company services and benefits
Pricing tables and how to pay
Lead magnet to entice op-tin
subscription form
testimonial column
Portfolio – completed projects, countries covered, awards and recognition
Partner companies
Blog section for companies news, training articles, promotional post and more
Highly responsive
Things you Need to Create a Good Digital Marketing Website
Before now, it was difficult for anyone who don't have advance web development skills to get around anything like website design. Now, things have changed and you can get this done without any coding knowledge.
This is made possible by the availability of advance internet technology and the tools are available at your disposal.
Things you will need to create a digital marketing website:
1. WordPress: This is a 100% free content management system (CMS) created with the sole aim if helping people like you and me who did not go to web design schools. With WordPress, you can create a type of website or blog with just an inspiration.
2. A domain name: This will be the url or web address of your website. You will buy it from the recommended domain name registrar.
3. Web Hosting: This is where you will host your website information so that it will be visible on the internet. Once you host your website, someone with another computer can access your website if he/she is connected to the internet.
There are a lot of web hosting providers around but I recommend Bluehost. They will give you free domain name when you buy any of their web hosting package. The hosting plans are fairly cheap and have excellent customer support.
4. Digital marketing Template (Website theme): This is the skin of your digital marketing website. Good themes contain all the features I listed above. All you need is to drag-and-drop each feature to make it become a full functional website with all the essential features you need.
There are so many website themes you can use for this project. But there are very good themes that will do the work perfectly. These are few good themes –DIGITAL AGENCY, THE SEO, SEO SIGHT, GULU, ACCEDE, HOSHI, SREATIVE, ISSABELA, and RADIUM. All of these theme have all the features need for a good digital marketing website.
How to Create a Digital Agency Website Using WordPress
Once you have the things in place, you can begin to setup your digital marketing website. Follow the instructions below:
Write down the information you will put on your website
Buy domain name
Bluehost and get free domain name
Add your domain name to your hosting package
Install WordPress
Buy and Install Digital marketing templates
Create blog section
Customize your website and add pages
You are done.
If you follow this guide, you will be able to create your digital agency website yourself. You can also follow the steps to create same to others for money.
However, If you need my assistance in this, kindly hire me. I am available to do it for with no time.
Please share this post on social media.
Thanks for reading.
Get Free ₦1,000 plus 5% - 15% interests on savings and over 25% return on investments: Create a Free Account on PiggyVest