In this guide, I will show you how to start a gossip log that matters. Gossip blogs publishes article about celebrities, popular figures, and politicians. Gossip blogs fall into entertainment, news or lifestyle blog niches. There is money in this niche because of high readership audience.
Here at Makemoneyonline.com.ng we teach people how to make money online legitimately. Today, we are dealing on how to start a gossip blog that matters.
Why should you start a gossip blog ?
Here are few reasons why you should start a gossip blog…
High readership: This will lead to more traffic and more money
High engagement rate: This will lead to high engagement with ads and more money
Easy to write contents
High share rate: users like to share articles concerning celebrities they follow. This will lead to more social signals, higher search engine ranking and more traffic
Marketable audience: Gossip blogs attract high quality advertisers like financial, telecom industries.
What you need to start a gossip blog.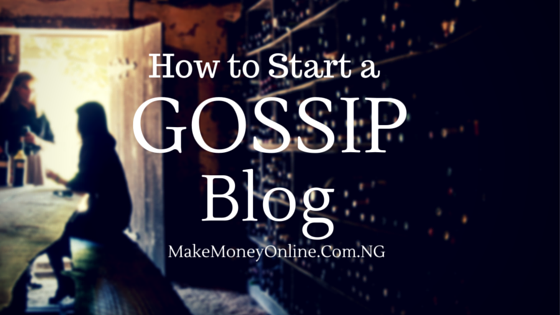 There are few thing you will need to start a gossip blog hat matters. here are the list below.
1. Computer (laptop) and internet service
2. Good web hosting: because you are expecting a huge traffic, I recommend that you buy a good web hosting from the USA. I recommend Bluehost. They will give you free domain name during signup.
3. Gossip blog theme: For you to start a gossip blog that matters, I will advise you use a premium theme made for gossip blogs. Few of them are Hush, Lifestyle magazine, Senorita, Bonita, The Gossip, etc. All of these themes are ready-made and responsive. No coding knowledge needed to setup your gossip blog.
Once you have this, follow the process on how to setup your blog.
Where to Get Gossip Gist to Publish
Gossips and rumours about celebrities are everywhere on the internet. Please make sure you re-write any news you get from the internet to avoid plagiarism penalty. You will definitely have huge advantage if you can write fresh articles.
You can also hire writers even if you don't know how to write. Read: How to get a successful blog even if you don't know how to write.
How to Make Money Online from Gossip Blog
There are many ways to make money from a gossip blog. Much of the monetization strategy will come from advertising. You will make money from your gossip blog from any of the following;
Google AdSense: this is the easiest way to monetize any blog
Sales of Advertising Space: You can sell advert space to many people who will want to advertise on your gossip blog.
Sponsored post: These are paid articles. Linda Ikeji is charging upto N60,000 per sponsored post.
Affiliate: You can also feature some affiliate banners in related niche and earn some affiliate commissions from it.
Magazine Sales. many gossip blogs will print and sell paper copy of their gossip news in the form of magazines.
Endorsements: This is when a big brands choose your blog as a promotion point
membership Subscription
That's the process of starting a gossip blog. You can do it alone by follow the guide. But many people will still find it very difficult to achieve it. If you need my help, contact me via the hire me page.
Starting a Gossip blog is good way to an online business, what do you think?
Get Free ₦1,000 plus 5% - 15% interests on savings and over 25% return on investments: Create a Free Account on PiggyVest