In this guide,  I'll show you how to make money with Propeller ads Media CPM network.  Propeller ad is a Cost Per Mile (CPM)  as network that allows website or blog owners to monetize their traffic when they implement customized popup, in-line or interstitial ads on their sites.
Propeller ads vs AdSense
Propeller ad is a very good alternative to Google AdSense. However,  you can still use Propeller ad along with Google AdSense on the same blog.
CPM is the pricing used when you want to purchase inventory based on how many times you want it seen. CPM stands for "Cost per Mille" which means cost per 1000 impressions.
The CPM price is based on every 1,000 impressions an ad is shown. A single ad impression being every time an ad is loaded on a webpage.
Requirements to Join Propeller Ad Network
1. You need a website or blog before you can make money from Propeller ad networks.  If you don't have a blog yet,  read here
There's in no stringent requirement apart from this.
2. A valid email address
How to Make Money with Propeller Ads Media CPM Network
Propeller ad Approval Process
Their approval is very quick and easy.  Just signup and begin to use propeller ad your blog.
How to Signup with Propeller ad Network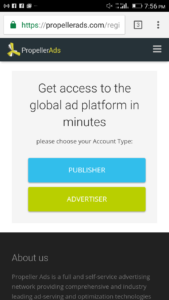 1. To signup visit Propellerad.com. Click on "Become Our Partner" button,  then click on "PUBLISHER" button
Select the "Individual Account" button to proceed.
Fill in all your information, read and accept their terms and conditions.
Click  "SIGNUP AS PUBLISHER"
You have finished step one…
2. Activate your account: login into the email you used for the registration and click the confirmation link to activate your propeller ad account.
After activating your account,  you'll receive another email confirming account activation with your login details.
2. Login to Add and verify your domain: To display propeller ad on your site,  you'll have to add the site URL and confirm it by either uploading propeller code in the root directory or using the propeller ad meta.  After this,  click on Verify button to verify your domain.
3. Generate the ad codes to your site: the most easier method to do this is to use plugin for those who are using WordPress.  Simply download the official propeller ad plugin from WordPress plugin repository, install and activate it.  Then do the settings and you are done.
How Much can you Make from Propeller ads
The amount of money you can make from propeller ads depends on your  traffic source,  pageviews. These two things will determine your propeller ads CPM rate.  It varies but you can make good money from it on daily basis if you have quality web traffic.
How to Withdraw your Propeller ads earnings
You can withdraw your propeller ads earnings via Payoneer.  So make sure you signup with Payoneer account here.
That's it.  Enjoy!
Get Free ₦1,000 plus 5% - 15% interests on savings and over 25% return on investments: Create a Free Account on PiggyVest