In this lesson,  I'll show you how to make money from Adfly links as well as Adfly affiliate program (refer a Friend). Adfly is a cost per action (CPA) advertising company that pays website or blog owners when users click a shortened Adfly URL from your site or blog.
How does Adfly work?
Shortened URLs are a great way to link to other websites, they look something like http://adf.ly/abc and they are a 'shortcut' for a real website address. When somebody visits a shortened link through adf.ly, they will see a full page advert on their screen for 5 seconds.
Then afterwards a SKIP button will appear in the top right-hand corner of the browser and when the user clicks this button, they are automatically redirected to the real destination website. The best part about using the adf.ly service is that you get paid for each visitor that views an advert AND the user still gets to the real destination.
Things you'll need to make money from Adfly shortened links and affiliate 
1. You'll need a good blog or website to generate leads to the shortened Adfly URLs.  If you don't have a blog yet,  read how to create a professional WordPress blog
You can also make money by sharing Adfly shortened links on social networks such as Facebook, Twitter, Google Plus,  LinkedIn and more.
Adfly Payment Method 
 Adfly pays through Payoneer or PayPal. So,  you'll need to have a Payoneer account to receive your Adfly payment. If you don't have payoneer account yet,  visit Payoneer and signup, it's free.
You can also receive Adfly earnings through PayPal (not Nigerian PayPal).
The best options for those who are not in the US or UK is to use Payoneer to receive payments.
How to Make Money from Adfly shortened Links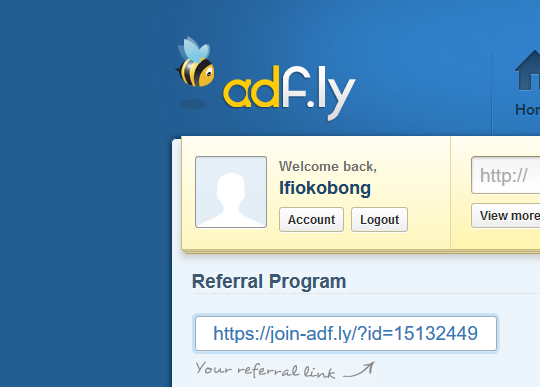 1. Signup with adfly
Adfly acount signup
To signup with Adfly,  click adf.ly and click on "Join Now" button.
Fill in your information, read and accept their terms and conditions.
Click the "Join" button.
Visit your email to confirm your registration.
How to Create Adfly links
To create your own adf.ly links, just login to http://adf.ly with the details above and enter any destination website in the large white box – then hit the Shrink! button. Your shortened URL will now be displayed for you to copy-n-paste anywhere you like. You could replace links on your blog with adf.ly links to generate more money or use them on Twitter where space is tight. There are many possibilities to earn money with adf.ly links, just by placing them where you would usually put normal links!
How much will I earn from Adfly?
We share the money generated through advertising with you 50/50. The actual amount you will receive per visitor varies depending on the location of the person and what advertisers are currently on the system. You can view the current publisher payout rates here.
There is a minimum payout of $5.00 and we pay via PayPal or Payoneer once per month. If you do not reach $5.00 in any month, your balance is carried over to the next pay period.
Can I earn commission for referring my friends/website visitors?
Make money from Adfly affiliate program 
You will earn 20% commission of your referral's earnings for life. This is a great way to boost your adf.ly earnings – especially as adf.ly is relatively new and not many people have heard about it – so get in quick and build up your referrals!
Adfly Earning Tricks
The best trick to make more money from Adfly is to place the shortened links in strategic locations on yoir blog post
This internet business idea works well on digital download blogs.
Also,  make sure you drive more traffic to your blog.  The more traffic you have, the more money you'll make.
Regards,
Get Free ₦1,000 plus 5% - 15% interests on savings and over 25% return on investments: Create a Free Account on PiggyVest