In this lesson you will #learn how to find a profitable blogging niche. This is a full lesson on this topic.
Many bloggers fail to make money online from blogging because of so many reasons.
They have created their blog for many months or years ago without making a single dollar. Others make very small amount that cannot even take care of their monthly internet bill.
Their blogs don't have traffic. The few people who reads their blog don't buy any
products or patronize services.
All these abysmal result may be so discouraging. Many bloggers may resort to the saying that blogging is not a good business. No!
Sometimes, it's not their fault.
There are many reasons that cause their failure. They don't fail to make money online because they are lazy. Really, they are not.
They will read a lot of blogging tips. They practice several SEO strategies. They will publish everyday. But no one still reads their blog. Why?
Let me suggest… maybe they are blogging on a wrong or unprofitable blogging niche. You will find out if I am correct soon.
Personally, I push the blame to absolute ignorance. Gone are the days where you can just start a blog on any topic and be successful.
Now, you have to do a thorough self-assessment and niche research to come up with something better if you want to make money from it.
Of course, you will agree with me that not all the niches are profitable. Some niches are overcrowded already. Others don't have advertisers to advertise on your blog.
Therefore…
…finding a profitable blogging is the first step you should take if you want to make money from your blogging effort.
Let me come back to you. Are you new to blogging or still want to explore more profitable blogging niche ? If yes, you will find this lesson very useful.
Previuos Lesson: How to Start a Blog and Grow it to $2,000 Per Month in 18 Months
At the end of this lesson, you learn three cardinal things. 
(1) The full meaning of a blogging niche?
(2) The full meaning of Niche Blogging
(2) Reasons why some blogging niches are not profitable
(3) How to recognize a profitable blogging niche
Those points are very broad, but I will break them down into sub-heading for easy understanding.
What is a Blogging Niche?
If you are fairly new to blogging, a niche is a topic that your blog is about. Like this blog you are reading, we are writing on a sub niche "Make Money Online" under "Finance". Here I teach various ways you can make money online. There are a thousand other blogging  niches out there.
Few popular ones are;
Education
Health
Sports
Entertainment
News
Technology
Finance
Fashion
Self Help
Relationship
And many others…
Read: Top 30 List of Blog Niche with the Highest Readers in Nigeria
Please note that the niches I mentioned above are not ordered according to popularity.
Also, there are millions of other niches and sub-niches still under the larger niche categories.
In fact, all human endevours from life to death are niches which you can chose to blog on.
I like I said, while some niches are over-flogged, there are many others that are not written yet. It's now up to you to discover it.
Don't Just Blog – Start Niche Blogging
Many bloggers make this serious mistake of starting a blog that writes on almost every topics. There are so many disadvantages in this.
(a) Your blog will be a jack of all trade but a master of none
(b) Search engines like Google will  not be which keyword to rank your blog.
(c) You will irritate your readers who have diverse interests.
(d) You will find it difficult to find specific advertisers because your audience is not targeted.
So, don't just blog, instead, start niche blogging.
What is a Niche Blogging?
See the picture below for better understanding of what niche blogging is all about.

Yes, a niche blog tend to focus on a particular product or services or a group of products or services for a particular group of people.
With niche blogging, you will be able to understand and know your audience. You can explain the characteristic of your visitors.
You will know their age, financial capabilities, desires and so on. These metrics are very important for successful blog monetization implementation strategy.
Read: 100+ Blog Niche Topics for Academic and Career Professionals
Reasons why Some Blogging Niches are not Profitable
There are many reasons why some blogging niche are not profitable. many of them will never be.
Also, there are various reasons why some blogging niches are more profitable than others.
These facts will help you to make better choices when choosing a niche to blog on.
I am not afraid to tell you that I have over 60 failed blogs. This is because, either I was testing things out or I was working on a trial and error knowledge.
From my few years in blogging, I have found few reasons why some blogging niches are not profitable or why some some niches are more profitable.
These are;
(1) High Competition: There are some blogging topics are are already over-flogged.
What I mean is that the topic is widely written, mostly by experts. There are many authorities in the niche already. So, if you are new to this niche, there is nothing you will write again that has not been written before.
have a look at the picture below;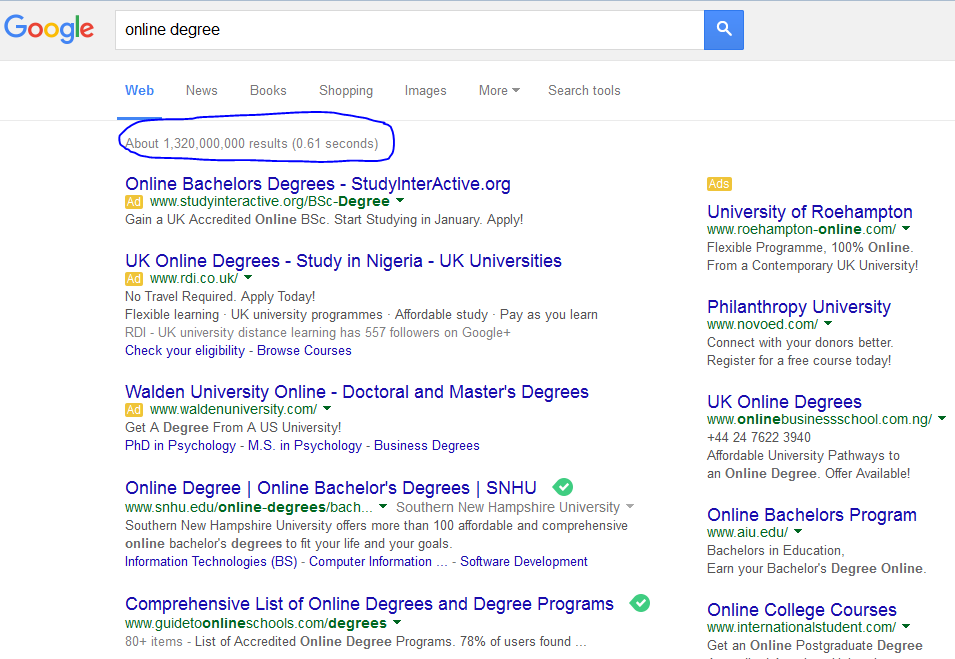 If you search for a keyword like 'online degree" on Google, you will see a whooping 1,320,000,000 results in just 0.61 seconds. WOW! This means that over 1 billion websites are talking about online degree already.
So, what will you write again on this topic?
If you write on this topic, what page will google put you?
If Google places your blog in the 100th page in search, how many people will open it up until they see your blog?
These are simple questions you should find yourself when choosing a blogging niche.
According to research, over 80 percent of search engine users don't open up the 2nd page of the search result.
If you are planning to blog in such a niche, your blog will find it very difficult to rank well in search engine.
Few people (or nobody) will read your blog because there are many exceptional ones out there.
Another example, If you want to write on entertainment, you have to be weary of the big players in the niche. These are the likes of Linda Ikeji and other top entertainment blogs.
You may succeed but it will require a conscious content marketing efforts which may involve a huge budget and expertise. Some will resolve to implementing some black hat tips to be heard.
So, before you can succeed in such a competitive niche, you need exceptional article curators as well highly skilled content marketing strategist and huge budget. All these are not easy to come by if you are just starting a blog.
I believe in developing a blog with very little or no investment. You will feel really accomplished if you can grow is to a reliable income source.
(2) Content Expiration: There are few blog niche where the content (article) expires after sometime.
A typical example are news, sports and entertainment niches. See for instance, an article about Kim Kardashian or Wayne Rooney in the today can become irrelevant after few weeks.
Those contents expires after sometimes. So, before you can succeed in this niche, you have to pay high valued content curators and invest heavily on content marketing. This is not easy for new bloggers to come by.
(3) Lack of Advertiser: There are many blogging niches that people will not want to advertise their product or services on.
There are many reasons for this too. Maybe the niche has some prohibited topics like porn or have have a wrong or undesirable target audience.
Of course, you know that not all the audiences can buy something.
There are so many of this topics. A typical example, if you are writing on how to get your ex back. This is relationship topic but nobody is ready to advertise on that topic despite that there are so many website competitors.
(4) Seasonal Niches: I hope you know that Christmas or Ramadan Kareem comes up only once a year.
So, blogging on this niches will be highly seasonal. These blogs will only make money from festive seasons (if at all it can make) and after that, you will go on a compulsory hunger strike until the next festive season.
Before you choose a blogging niche, make sure that the topics are not seasonal. Choose a blog topic that are needed all year round.
(5) Prohibited Topics: There are so many prohibited topic. A typical example are drugs, gang-life,  cultism etc.   These are all prohibited topic and search engines will not like to feature it in search results. You may not find advertisers too.
It's important! Before you even think of starting a niche blog, do a 24-hour research on the niche
How to Find a Profitable Blogging Niche
So, how then can you find a profitable blogging niche?
Sometimes, it may be difficult task to find a profitable blogging niche. For this reason, I recommend that you take your time to do the research before you take your final decision.
Below are the few tips for you can implement…
(1) Research on Top Bloggers: Perform an in-depth research on top earning bloggers and see what topic they are writing on. Please don't follow them. Try and measure-up what when they started as well as what they are doing and how they got there.
You will use these information to better understand how you will implement your plans.
(2) Choose a Niche you Know: Many expert bloggers propose that the most profitable blogging niche are those niches you are expert at. It's very important that you chose a niche you know a bit about.
This is not always the case because you can always learn something new anytime when money is involve. But if you want to avoid this steep learning curve, I will advise that you choose a niche on the topic you know already.
Everyone knows something that could be new to others. That could be your profitable niche to choose.
There are greater advantages if you are writing on a niche you fully understand.
See for instance, health & nutrition is one of the most profitable blogging niche. It has lots of search volumes and many potential advertisers.
But you will find it extremely difficult to produce quality articles on it if you are not health oriented or a nutritionist. The reason is because you are not an expert in the field.
So, I will rightly say that your most profitable niche will something that you are an expert at. You will be able to seemingly create quality contents anytime because you are an expert in the field.
(3) Chose a Niche you Love: One of the thing that could help you to make money from blogging is maintaining a blog for a long time. It's only passion that can do this when there is no money.
It's very important that you choose a niche that you have passion for. Maybe if the money doesn't come yet, the passion will still drive you.
Doing what you love is very important. You will always love it. you will feel accomplished even when you don't make money from it.
(4) Choose a Niche with a Marketable Audience: It's very important that you consider the people who will likely read your blog.
They should be people who have bank accounts. That means they can buy something.
If you write to below 10 years old children, how do you intend to make money from them? Most of them read online, but they don't buy something.
Advertisers won't come to your blog after analyzing your traffic characteristics.
(5) Choose a Niche that Have a Physical Product or Service: This is very important and could be your break or make criteria. Do well to research on those niche that have physical products you can sell or recommend to your readers.
With this kind of web traffic, you have products or services that you can sell directly or recommend to them.
You can make money through ads space sales and affiliate.
If your niche noes not have physical product or service to promote, you will end up depending on only one source of income.
(6) Choose Evergreen Niche Topics: Like I said, there are articles that expires after sometimes. These are time-specific articles. After that time, the information contained in the articles are not useful.
A typical example is news and entertainment niche. Although this niche have high readership, there are a lot of competition too.
In these niche, you have to stay on the work at all the time so as to keep your blog fresh.
No reader will want to read an old news when there are so many many on-the-scene feeds and live streaming out there.
On the other hand, there are many other blogging niches that are evergreen. Their contents can last for many decades and they are still relevant.
With evergreen niche, you can build a business where you can depend on when you cannot write again.
So, its up to you to research on those evergreen blogging niches.
It's important you choose an evergreen niche if you want to build a blog that will stand the test of time
(7) Choose and Know Your Audience on Time: It's very important to know and choose your blog audience on time.
Do not choose a blogging niche just because there are high search volumes. Instead, try understand the demographic characteristic of your traffic.
This is very important in blog monetization. For instance, if you have a blog that have many readers from the US and UK, you will seems to make more money than blogs that don't have any visitors from there.
The reasons are simple. People from these regions are more economically viable and they can easily buy things online. Also, they easily have access to internet anytime anywhere.
Others factors to consider when choosing a blogging niche are age groups, and gender of your readers. All these characteristic are very important in blog monetization.
Steps to Take to Finding a Profitable Niche
Finding a profitable niche is not by proxy. This is where keyword research comes in to play. There are many keyword tools out there. Some are free and some are premium.
The main function of these are keyword tools is to help you in niche research and keyword analysis.
(1) Use Keyword Research Tools 
My best keyword tool is Google Keyword Planner. It does the work of keyword analysis very well if you know how to use it. The best thing is that it's FREE.
So, learn how to use Google Keyword Tool to find a profitable niche. I will write a seperate lesson on this later.
(2) Use Google Search: Google search is another tool to discover profitable blogging niche.
It works best if you know how to combine it with Google Keyword Tool to get the best result.
See the illustration bellow.
If you perform Google search for the keyword "get your ex back", See the picture below…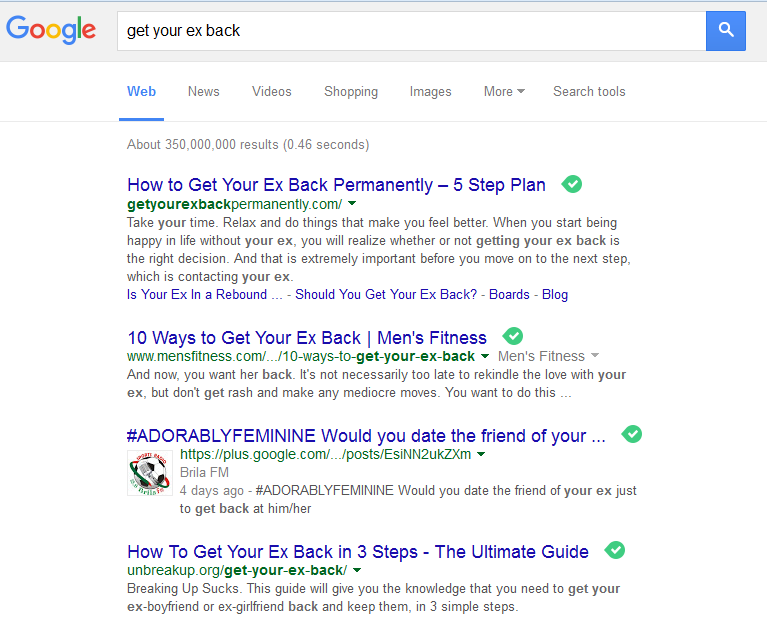 You will see about 350,000,000 results in 0.46 seconds. This is a huge competition for that topic.
Note: Another point to observe… There are no single advertiser there.
Now see the result if you do keyword analysis. See picture below… with the keyword "get your ex back"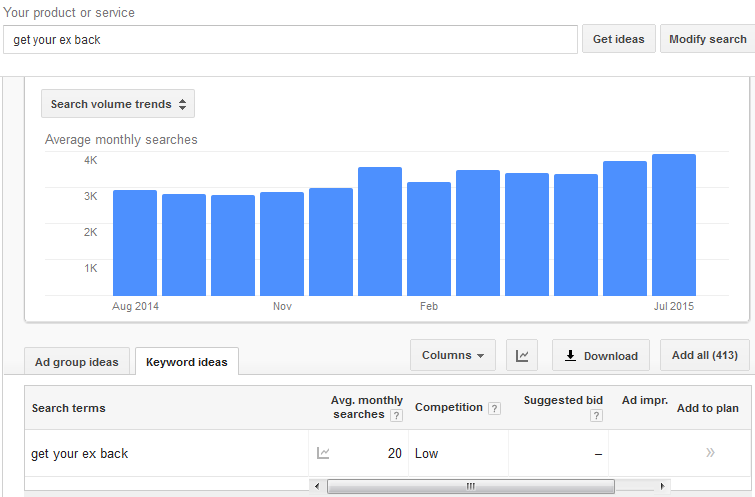 You will observe that the average monthly search volume is only 20 and low advertisers competition.
It therefore means that this topic is no more profitable.
That's what I mean by using a combination of Google Search result and Google Keyword Planner to get the best blogging niche.
A typical profitable topic will have (a) low web competition, (b) high monthly search volumes and (c) high advertisers competition.
(3) Visit Top Online Stores: One of the best step to finding a profitable blogging niche is visit top online stores.
This could be Konga.com, Jumia.com.ng, Amazon.com or eBay.
What will you do there?  Now find the (1) most recent items in the market (new products) as well as (2) bestseller products.
Chances are there that most recent products in the market will have less web competition and bestseller products will have high demand as well as high advertiser competition.
These are the products that will make a profitable blogging niche.
With this, you are rest assured that you will make money from your readers either by selling or recommending the products to them.
Also, being that the products are hot in the market, advertisers will be ready to advertise on your blog.
How I can help you discover a profitable niche?
Sure, a good niche is a gold mine in any internet business. You can see the complex processes involve in choosing a profitable niche.
Also, not everyone will be good at every niches. With this lesson, you can find a niche for yourself.
But if you need help, I can find the niche that will work best for you. I will consider your knowledge level and other things to know which blogging niche will be profitable for you.
I will also guide you until you succeed in making money from it. This is part of the mentoring services I offer in the hire me page.
Your Thoughts!
If you have any question comments, testimony or feedback? If yes,, kindly submit them in the comments section below. I will respond as soon as possible.